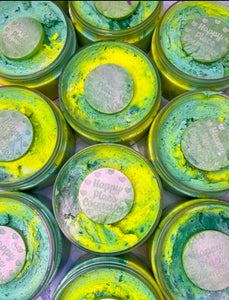 Mowgli is one of our favourite EVER Happy Place fragrances. Think creamy bananas, fresh lemons, zesty limes, sugared grapefruit and a surprisingly sweet vanilla milk base with a hint of Fruit Loops cereal. It's nostalgic, fruity, slightly sweet and it there's something lovely it takes you back to, that you can't quite put your finger on.
But if you haven't watched the Jungle Book as a fully grown adult in your pyjamas while eating your favourite childhood cereal, you will definitely still enjoy the smell all the same!
A rich, foamy whip that has multiple uses! This product is so versatile! You can use it as a bubble bath, by dropping a scoop into a running bath to create colourful scented bubbles. You can use it as a body wash in the shower or bath. You can use it as a shaving foam, the opportunities are endless!
Aqua, glycerin, sodium cocoyl isethionate, sorbitol, disodium lauryl sulfosuccinate, sodium chloride, phenoxyethanol, Tetrasodium EDTA. Synthetic fragrance. Mica.