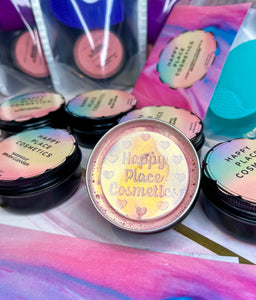 Warm sugar donuts, just twirled candy floss, toasted marshmallows

Scented Solid Makeup Brush Cleanser Kit. A favourite with our beauty blogging and makeup artist customers, and the perfect gift for anyone who's all things makeup and beauty obsessed.

All of our Brush Cleansers are vegan friendly and come with full, easy instructions on the care card provided. 

To use, simply wet your brush, swirl it into the cleanser pot to create a bubbly lather, and use the silicone scrub egg to work out any dirt, germs, grime and excess makeup product from the bristles. Then rinse clean and allow the brush to air dry. 
Each cleanser comes as a 50ml pot of solid product. Solid cleansers help to avoid the excessive wastage experienced with using liquid cleansers on your brushes, and depending on usage, they last a lot longer!

Each kit comes with a brush egg scrubber and instructions too!