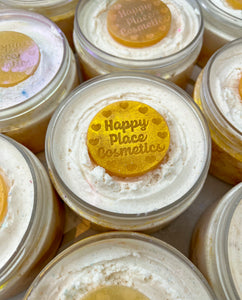 pistachio vanilla almond  similar to BumBum by sol de Janeiro 
A rich, foamy whip that has multiple uses! This product is so versatile! You can use it as a bubble bath, by dropping a scoop into a running bath to create colourful scented bubbles. You can use it as a body wash in the shower or bath. You can use it as a shaving foam, the opportunities are endless!
Aqua, glycerin, sodium cocoyl isethionate, sorbitol, disodium lauryl sulfosuccinate, sodium chloride, phenoxyethanol, Tetrasodium EDTA. Synthetic fragrance. Mica.