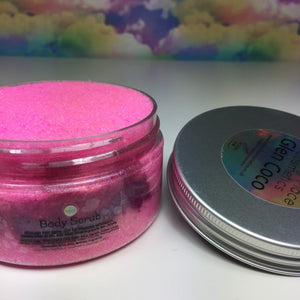 Ok guys, your campaign is over. Glen Coco is back!
*Scent similar to Yummy Mummy

Glen Coco body scrub has returned to the permanent line, but this time she joins our Regina scent collection. (That couldn't NOT happen right? Totally Fetch)
SOOOOO, fragrance wise- She's pink and sweetly fragranced with a 'yummy' fresh strawberries, geranium, tonka and orange leaf fragrance. But marbled into her pretty pink vibes is her inner dark side. We are pretty sure you aren't going to hate bathing with THIS mean girl.
Whipped Foaming Body Scrubs in our 200ml tubs for use in shower or bath. With truly exfoliating coconut sugar, because we believe a body scrub should be ..... actually 'scrubby'. You can also control just how scrubby these are just by using with more water in order to soften the exfoliation. These beautifully fragranced scrubs are a treat for the skin.
Coconut Sugar, Granulated Sugar, Aqua, glycerin, sodium cocoyl isethionate, sorbitol, disodium lauryl sulfosuccinate, sodium chloride, phenoxyethanol, Tetrasodium EDTA. Synthetic fragrance. Mica.